Table of Contents
Best (my) way to use CRC clusters
Software needed
If you are using a Mac, use the following similar software
Terminal (already installed) to replace PuTTY.

TextWrangler to replace Notepad++

FileZilla can be equally used on a Mac.
Upload files using FileZilla
See the screen below:

Host: newcell.crc.nd.edu

Username: your netid

Password: your password

Port: 22

Click Quickconnect

On the remote site (right panel), browse to the Private folder. Typically create folders and files under the Private folder.

On the Local site (left panel), choose the files/folders to upload and drag them to the remote site folder.
Use PuTTY
Steps
Host name: crcfe01.crc.nd.edu

Port: 22

Connection type: ssh

You might save the information by clicking "Save" button.

Click on Open button

In the new window
Most useful commands
pwd : print the current directory

ls : list the file and folders

cd dir : change to a new directory (dir)

cd .. : go to last level of directory

cd : go the the initial directory you log in

mkdir dir : create a new directory called dir

rm file1 : delete a file

rm -r dir : delete a directory

nano : a text editor.

chmod g+s dirname: file created belongs to the group.

setfacl -d -m g::rwx mathfeud : set the permission for the group
Use Notepad++
Use the ftp of Notepad++ to edit files directly.

Show the ftp windows by the menu: Plugins – nppFTP – show NppFTP window (see the screen below)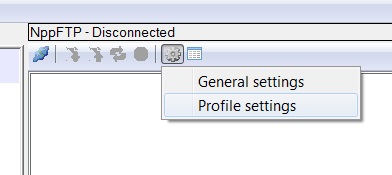 Then in the new window

Click "Add new" on the bottom left corner

Give a name, e.g., CRC

Then input the information required

Hostname: newcell.crc.nd.edu

Connection type: SFTP

Port: 22

Username: your netid

Password: leave empty and check "Ask for password"

Initial remote directory: the output of pwd commend in putty.

close the window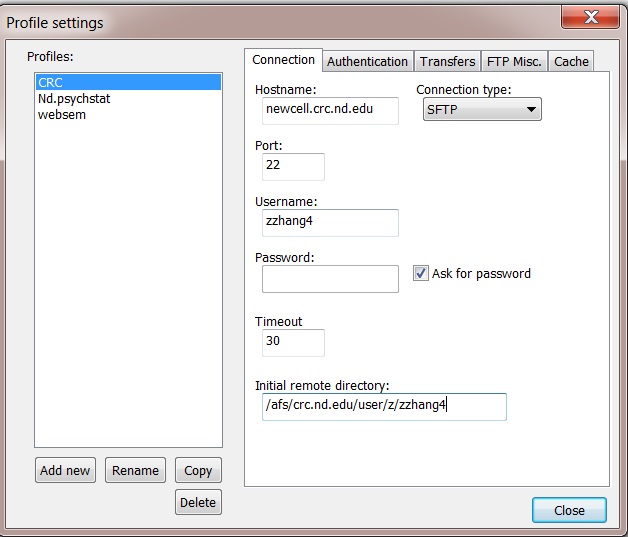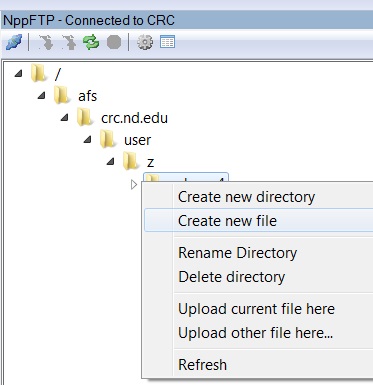 Submit a job (SGE)
For more information, go to http://wiki.crc.nd.edu/wiki/index.php/Submitting_Batch/SGE_jobs
Log in using Putty

Create a new folder -test- within Putty using command

mkdir test

or do that within Notepad++ using the FTP plugin

Go the new folder test.

Create a test R file with the following content. You can use Notepad++. If using Putty, you can use the

nano test.R

The content of the R file is

rnorm(100)

Create another file (a submission file) called

test.sh

. In the file, include the following information (change the email address to yours)

#!/bin/csh
#$ -M xxxx@nd.edu
#$ -m abe
#$ -r y

module load R

R CMD BATCH test.R


To submit a job, in Putty (has to use Putty or other SSH client), type the command

qsub test.sh

Your job should be submitted now.

To check the status of your job, use

qstat -u netid

Your job should already finished by now, so you won't see anything for this simply example.

You can list all the files using command ls. You will see a file called test.Rout. Any error can also be found in it.

There will also be a file called test.sh.oxxxx (xxxx is a number). If no error, the size of it should be 0 typically.

If there is error in your job, you will see a file like test.sh.exxxx.

To use SAS, change module load R to module load sas. All available module can be found using module avail

If the test job works fine, you can start your regular jobs!
Submit an array job (SGE)
Sometimes, it might be convenient to split a big jobs to smaller ones. Preferably, each small job runs within its own folder. For example, one might have a sas job in the following folders
sasjob1

sasjob2

sasjob3

sasjob4
Within each folder, there is a sas file called runsas.sas. To submit such jobs, use the batch file with contents below
#!/bin/csh
#$ -M zzhang4@nd.edu
#$ -m abe
#$ -r y
#$ -t 1-4

module load sas
cd sasjob$SGE_TASK_ID

sas runsas.sas
If one prefers to put all small jobs in one folder like
sasjob1.sas

sasjob2.sas

sasjob3.sas

sasjob4.sas
Then the following script file can be used
#!/bin/csh
#$ -M zzhang4@nd.edu
#$ -m abe
#$ -r y
#$ -t 1-4

module load sas

sas sasjob$SGE_TASK_ID.sas
Debug
To reset the CRC environment, use
/opt/crc/usr/local/bin/crc_setup